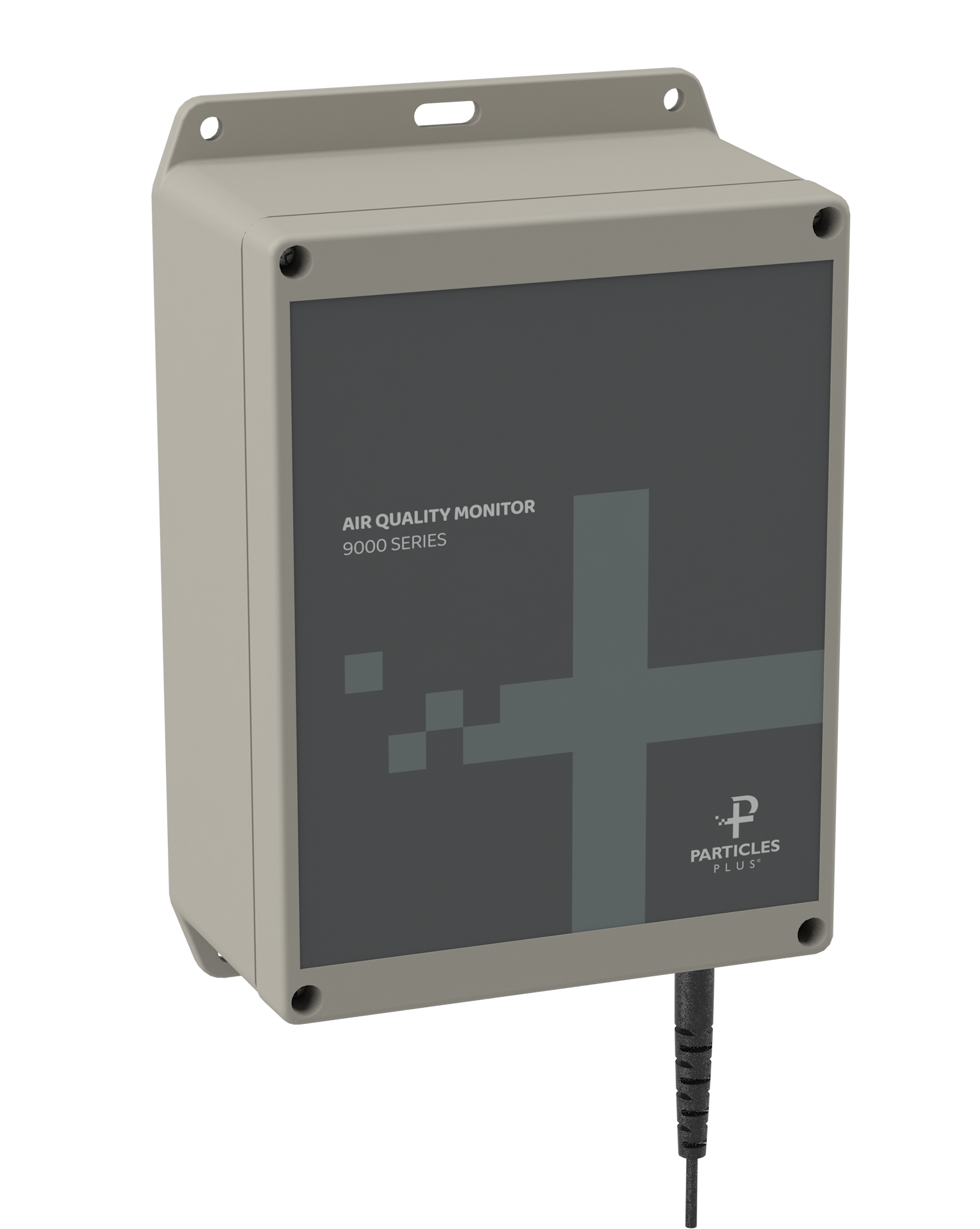 9300P Ambient Air Monitor
Particles Plus® cutting-edge 9300P Ambient Air Quality Monitor sets a new standard in air quality analysis, offering an unprecedented level of precision and accuracy. With its advanced technology, this monitor provides real-time measurements of particle size distribution and mass concentrations for PM0.5, PM1.0, PM2.5, PM5.0, and PM10, allowing for comprehensive air quality assessment.
Key Features:
30 Particle Size Channels: Equipped with a sophisticated sensor array, this monitor offers an extensive range of 30 particle size channels. This broad spectrum analysis provides in-depth insights into the composition and distribution of airborne particles in order to accurately identify potential pollutant sources and assess health risks.
Real-time Data: The ambient air quality monitor delivers real-time measurements, ensuring that users have constant access to up-to-date and accurate information. This immediate feedback enables a proactive approach to monitoring air quality, better facilitating timely interventions and informed decision-making.
Mass Concentration Measurements: In addition to particle size distribution data, the monitor also calculates mass concentrations for PM0.5, PM1.0, PM2.5, PM5.0, and PM10. These values enable quantitative assessments of particulate pollution levels, aligning with established air quality standards and guidelines.
Data Logging and Integration: The 9300P Ambient Air Quality Monitor is equipped with extensive data logging capabilities, allowing for long-term data storage and analysis. This enables the identification of trends, patterns, and potential correlations between air quality and various factors such as weather conditions, time of day, and local activities.
Quality Assurance and Calibration: We prioritize delivering accurate and reliable measurements. This air quality monitor undergoes rigorous quality assurance procedures and is calibrated to recognized standards, ensuring consistent and trustworthy results.
Airborne Pollution and Environmental Research
Perimeter or Fence-line Monitoring for Construction, Remediation or Hazardous Waste Sites
Mine and Quarry Fence-line Monitoring for dust control operations
City Wide or Community Air Pollution Monitoring
Roadside Emissions Monitoring
Medical Facilities Property Monitoring
Power Line Wild-Fire Monitoring
Environmental Disasters
Monitor for 24 hours a day, 7 days a week, 365 days a year
Measures 0.3 µm to 25 µm
1.2 LPM flow rate
Long life laser diode technology
Measures up to 30 channels of simultaneous data
Accurate in high particle concentration environments
Internal vacuum pump
PM0.5, PM1.0, PM2.5, PM5.0, and PM10
Stores up to 65,000 sample records for on-board data redundancy
Connect via Modbus RTU/ASCII over isolated RS-485, TCP/IP, PoE, or WiFi
IP65 ABS plastic waterproof enclosure
Versatile mounting options
Complies with ISO 21501-4 and JIS B9921 standards
Size Range
0.3 µm to 25 µm
Size Channels
Factory calibrated at 0.3, 0.5, 1.0, 2.5, 5.0, 10.0 µm
Mass Concentration
PM0.5, PM1.0, PM2.5, PM5.0, and PM10
Number of Channels
Up to 30 Channels
Counting Efficiency
50% @ 0.3µm; 100% for particles > 0.45 µm per JIS
Flow Rate
1.2 LPM
Concentration Limits
27,000,000 particles/ft3 @ 10% coincidence (per ISO 21501-4),
50,000,000 particles/ft3 @ 10% coincidence (as tested and validated)
Aerosol Concentration Range
0.01 to 20,000 μg/m3
Light Source
Long life laser diode
Zero Count
<1 count / 60 minutes (<1 particles / 6 ft3). No fault count subtraction.
Calibration
NIST traceable
Vacuum Source
Internal vacuum pump
Airflow
Internally monitored
Configuration/Download
USB mini-B
Communication Modes
MODBUS™ RTU or ASCII outputs (over isolated RS-485), TCP/IP, PoE, or WiFi
Standards
ISO 21501-4 and JIS B9921
Instrument Calibration
Recommended minimum once per year
External Surface
Plastic ABS
IP Rating
IP65
Dimensions (L x W x H)
6.5 x 5 x 3 inch (165 x 125 x 75 mm)
Weight
1.71 lb. (780 grams)
Accessories
Operating manual on USB flash drive, power supply and cable, IMS-9K Software
Optional Accessories
Printed manual
Buffer Memory
65,000 sample records (rotating buffer) including particle count data and PM data
Sample Time
1 second to 99 hours
Power
9 - 24 VDC (< 2.5 watts)
Operating Conditions
41° to 104°F (5° to 40°C) / 20% to 95% non-condensing
Storage Conditions
32° to 122°F (0° to 50°C) / Up to 98% non-condensing
Warranty
2 year limited warranty. Extended warranties available.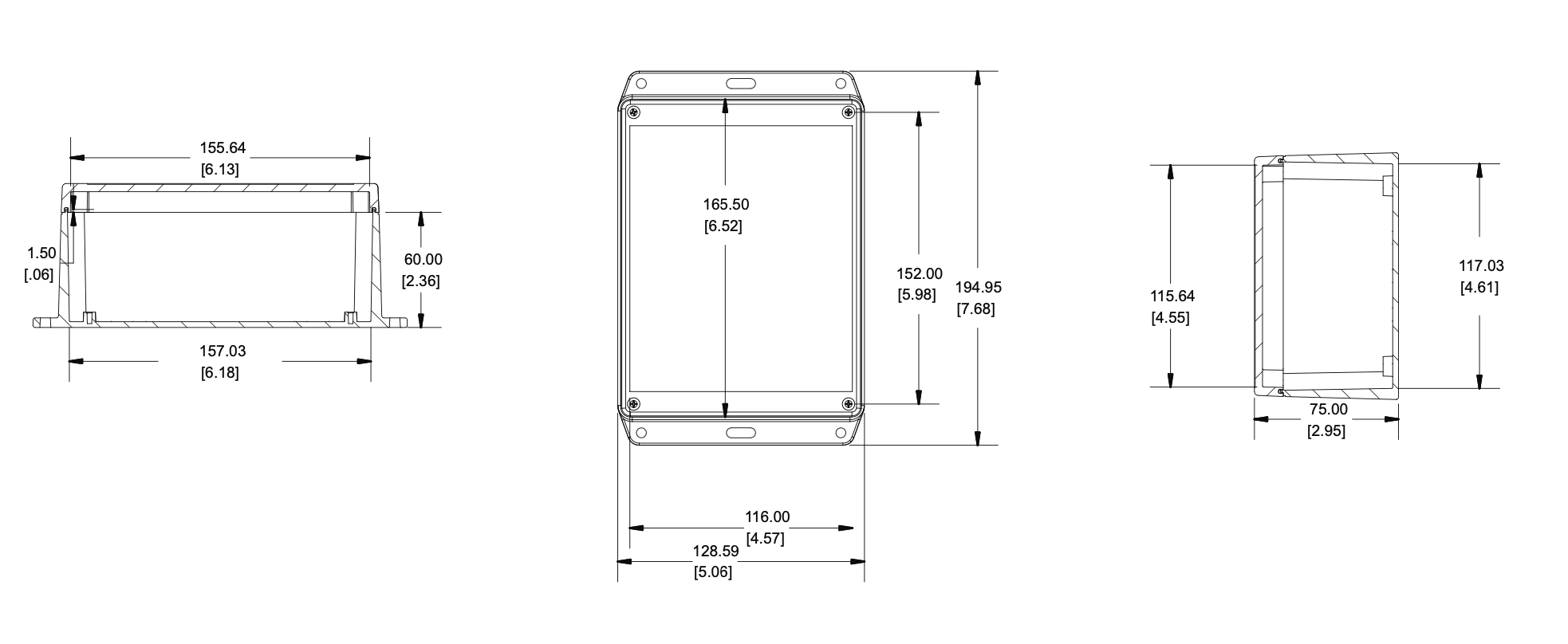 © 2023 Particles Plus, Inc. All rights reserved.