Pittsburgh, PA – August 24th – Particles Plus had the pleasure to attend the National Ambient Air Monitoring Conference (NAAMC) 2022, where apart from exhibiting air quality solutions, also shared the results of an in-depth study that was presented by Professor Anil Namdeo.
Professor Namdeo and the research team (Professor Nguyen Thi Kim Oanh, Dr. Rajasekhar Balasubramanian, Dr. Ekbordin Winijkul, Dr. Didin Agustian Permadi, Dr. Sarva Mangala Praveena, Dr. Ohnmar Tin Hlaing, Dr. PhamThi Hong Phuong, Dr. Trinh Thi Tham, and Dr. Kanittha Pamonpol) investigated the levels of indoor and outdoor particulate matter in six Southeast Asian cities by using state-of-the-art Particles Plus instruments, the Ambient Monitor EM-10000 and the Indoor Air Quality Monitor 7301-AQM2. As the researchers had on their hands the particle size distribution and not only PM values, they were able to unearth more findings about the source of the pollutants, and they were able to pinpoint the origin of the pollution between indoor and outdoor.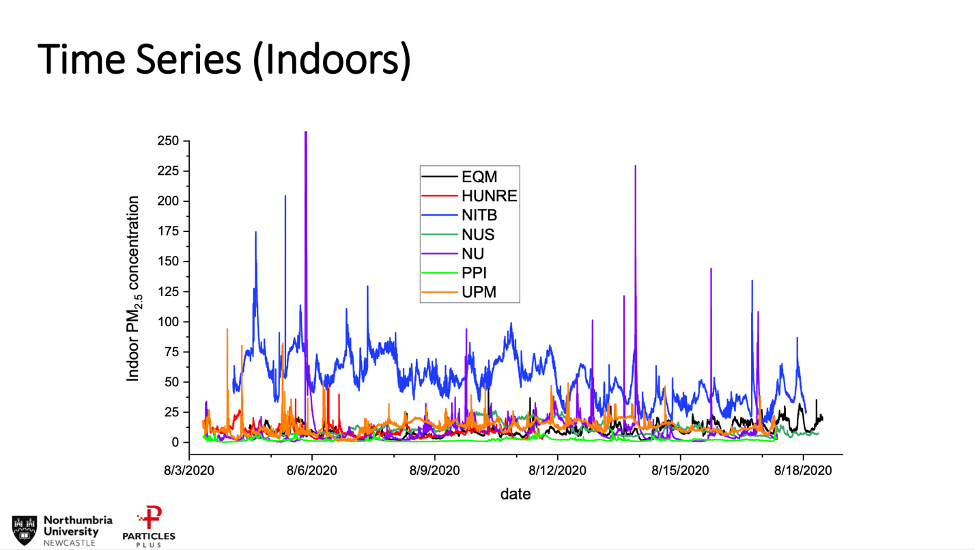 The team had dense data from six simultaneous monitoring in cities (Bangkok, Yangon, Hanoi, Bandung, Singapore, and Kuala Lumpur) and two monitors (indoor and outdoor) at each location. The air quality monitors took samples every minute and they analyzed the particle number counts (PNC) (#/m3) for six size channels 0.3 μm, 0.5 μm, 1.0 μm, 2.5 μm, 5.0 μm, and 10.0 μm. The mass concentrations (μg/m3) PM2.5 was also taken into account.
Bandung was the city with the highest PM2.5 indoor and outdoor concentrations, surpassing WHO's 2021 Air Quality Guidelines annual mean of 5μg/m3 by a factor of 10. Unfortunately, the study found that the population-weighted annual average concentrations are higher in Southeast Asian (SEA) countries and the research team suggest that mitigation plans can be developed for each site with further analysis of the metadata.
The findings can be downloaded from the official U.S. Environmental Protection Agency site: https://www.epa.gov/system/files/documents/2022-10/Namdeo_Anil_Wed1030.pdf