9510 Remote Airborne Particle Counter
Particles Plus Remote Particle Counters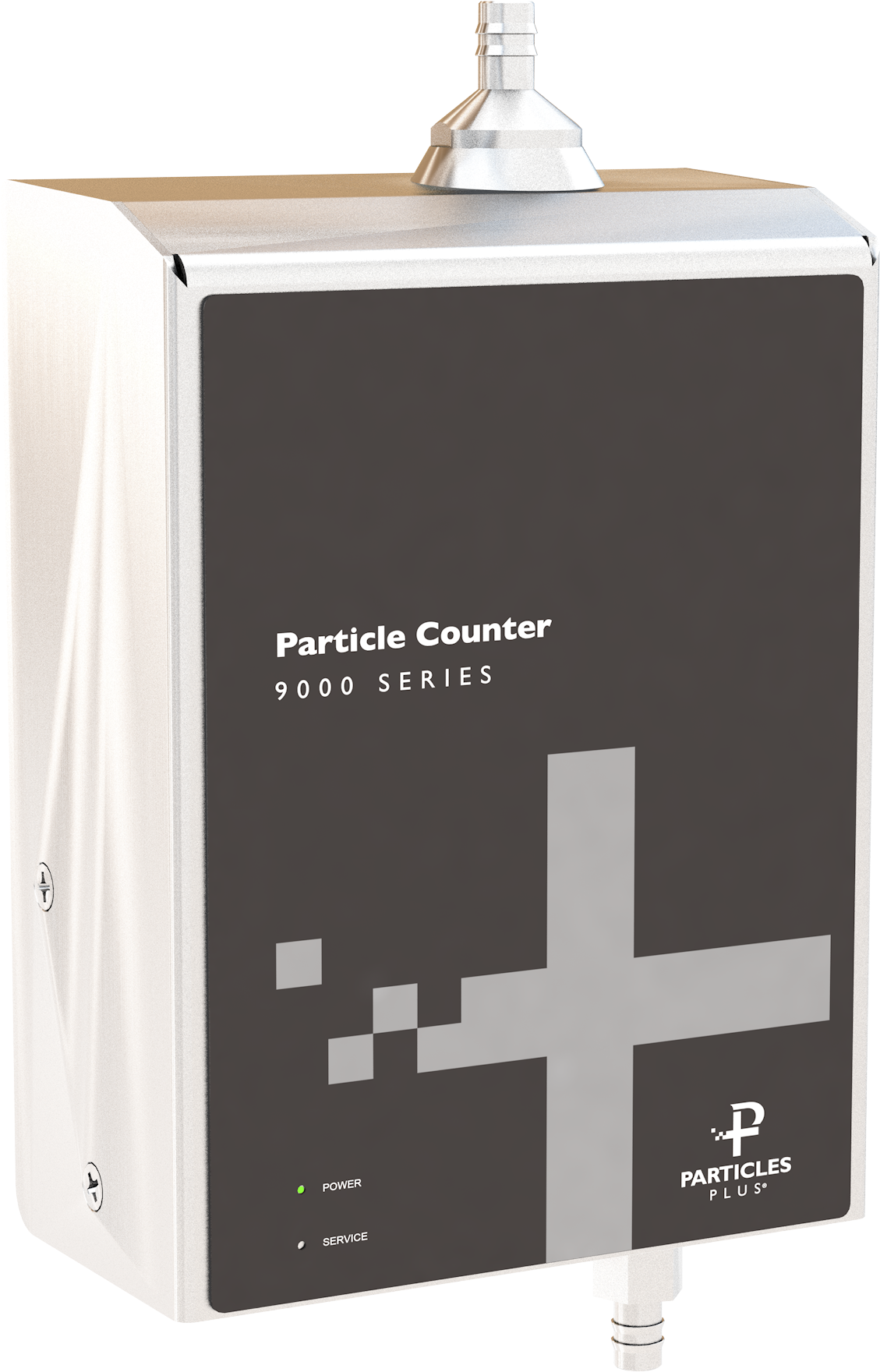 9510 IoT
0.5 – 25.0 µm @ 1.0 CFM
The 9510 IoT particle counters provide a range of particle size measurement from 0.5 to 25.0 μm at a flow rate of 1.0 CFM (28.3 LPM). These sensors allow for efficient particle counting with specifications that exceed the ISO 21501-4 and JIS B9921 calibration standards.
These sensors have 6 user-selectable particle size channels (up to 30 channels optional) and are equipped with an integral critical orifice and flow sensor to provide a stable flow rate from an external vacuum source. Integration into a building automation or facility monitoring system is easy via isolated RS-485 Modbus communication.
Measures 0.5 to 25.0 μm
1.0 CFM (28.3 LPM) flow rate
Long life laser diode technology
Measures up to 6 channels of simultaneous data (30 channels optional)
Particle concentrations up to 1,500,000 Particles/ft3 @ 10% coincidence loss
Internal critical orifice
User-selectable channel sizes
Stores up to 65,000 sample records for on-board data redundancy
(Optional) temperature and relative humidity probe available
Connect via Modbus RTU/ASCII over isolated RS-485, TCP/IP, PoE, or WiFi
Complies with ISO 21501-4 and JIS B9921 standards
Easy to clean and wipe down with minimal particle traps
Versatile mounting options
Alarm light
LED Indicators
Seamless integration into a facility monitoring system
Lightweight stainless steel enclosure
2 year warranty. Extended warranties available.
| Model | 9510 |
| --- | --- |
| Size Range | 0.5 to 25.0 μm |
| Size Channels | Factory calibrated at 0.5, 0.7, 1.0, 2.5, 5.0, and 10 μm |
| Number of Channels | 6 channels (up to 30 optional) |
| Counting Efficiency | 50% @ 0.5 μm; 100% for particles > 0.75 μm per JIS |
| Flow Rate | 1.0 CFM (28.3 LPM) |
| Concentration Limits | 1,500,000 Particles/ft3 @ 10% coincidence loss |
| Light Source | Long life laser diode |
| Zero Count | < 1 count / 5 minutes (< 1 particles / 15ft3). No fault count subtraction. |
| Count Alarms | 1 to 9,999,999 |
| Calibration | NIST traceable |
| Vacuum Requirements | External vacuum > 15" (38.1cm) of Hg |
| Airflow | Internally monitored |
| Configuration/Download | USB mini-B |
| Alarm | Alarm LED ring |
| Communication Modes | Connect via Modbus RTU/ASCII over isolated RS-485, TCP/IP, PoE, or WiFi |
| Standards | ISO 21501-4 and JIS B9921 |
| Instrument Calibration | Recommended minimum once per year |
| External Surface | Stainless steel |
| Dimensions (L x W x H) | 3.59" x 1.83" x 5.01" (9.1 cm x 4.6 cm x 12.7 cm) including probes and connectors |
| Weight | 1.65 lb. (0.75 kg) |
| Accessories | Wiring Connector, operating manual on USB flash drive |
| Optional Accessories | Power Supply, Remote Mounting Bracket, Stainless Steel Barbed Isoprobe (1.0 CFM/28.3 LPM), Purge Filter Assembly, and Sample & Vacuum Tubing |
| Buffer Memory | 65,000 sample records (rotating buffer) including particle count data and environmental data |
| Sample Time | 1 second to 99 hours |
| Power | 9 - 24 VDC (< 2.5 watts) |
| Operating Conditions | 41° to 104°F (5° to 40°C) / 20% to 95% non-condensing |
| Storage Conditions | 32° to 122°F (0° to 50°C) / Up to 98% non-condensing |
| Warranty | 2 year limited warranty. Extended warranties available. |